12/03/2016
| | |
| --- | --- |
| WATCH THE FULL SPEECH HERE | A raucous and triumphant Republican crowd welcomed Vice President-elect Mike Pence to New Orleans Saturday. Pence recalled the visit by him and Trump to metro Baton Rouge in August after the flooding. "Louisiana, you inspired the nation," Pence thanked the crowd for Trump winning Louisiana with 58 percent of the vote on Nov. 8. During a 20-minute speech, standing in front of a giant facsimile American flag, Pence pledged that the new administration would repeal the Affordable Care Act, better known as Obamacare, a stance that Kennedy supports. Pence also promised that the administration would cut taxes, increase spending on defense, appoint conservative justices to the Supreme Court, repeal "unconstitutional" executive orders signed by Obama and build the wall along the Mexican border to keep out illegal immigrants. The crowd roared its approval in the hangar. |
---
VIDEO SOURCE: Right Side Broadcasting - YouTube
---
Vice President-elect Mike Pence rallies GOP crowd in New Orleans for John Kennedy's U.S. Senate bid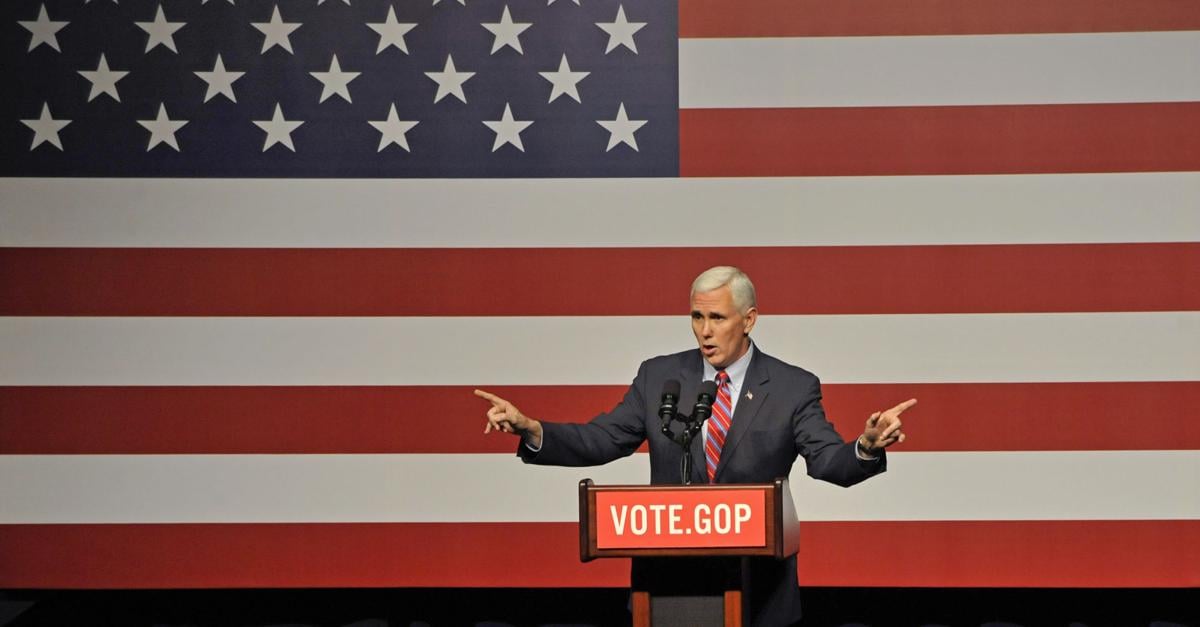 A raucous and triumphant Republican crowd welcomed Vice President-elect Mike Pence to New Orleans Saturday as he called on them to send state Treasurer John N. Kennedy to the U.S. Senate in the Dec. 10 runoff election.
Pence repeatedly invoked President-elect Donald Trump in asking for Louisiana to elect Kennedy, a fellow Republican, in what is the country's last Senate election, thanks to the state's unique election laws.
"We have one more race to win this year, right here in your great state," Pence told several hundred cheering supporters inside an empty hangar at New Orleans' Lakefront Airport. "We need one more push."
Trump weighed in with a tweet before the rally began, saying Kennedy "is my choice" for the Senate.
Kennedy is facing off against Foster Campbell, a veteran Democrat who serves as an elected member of the state Public Service Commission.
Kennedy is the heavy favorite but Republicans, with Pence's visit, are leaving nothing to chance. Pence appeared at a fundraiser for Kennedy at the airport before he spoke.
If Kennedy wins, Republicans will hold a 52-48 advantage in the U.S. Senate.
The buoyant crowd heard from a parade of Republican elected officials before Kennedy introduced Pence.
"We need to give the president a few more tools in his toolbox to make Louisiana great again," Lt. Gov. Billy Nungesser said in calling for Kennedy's election.
"John is tight with your dollar, John is tight with my dollar," said U.S. Rep. Ralph Abraham from northeast Louisiana, highlighting Kennedy's reputation as a fiscal watchdog.
"America needs to and wants to be great again," said Attorney General Jeff Landry. "Now it's time for Louisiana to do its part."
"We're already beginning to plan the first 100 days," said U.S. Rep. Steve Scalise, the third-ranking member of the House, who represents much of Jefferson Parish and other suburbs of New Orleans.
With early voting ending Saturday, U.S. Sen. Bill Cassidy called on everyone to vote that day and make sure that 10 others voted as well.
Pence also called on Republicans to vote Saturday and told them to bring a friend to vote, too.
U.S. Sen. David Vitter did not attend the event because of a big family reunion. U.S. Rep. Charles Boustany, who is about to lose his job representing Acadiana after finishing third in the Senate primary behind Kennedy and Campbell, was also absent.
Pence recalled the visit by him and Trump to metro Baton Rouge in August after the flooding.
"Louisiana, you inspired the nation," he said.
Pence thanked the crowd for Trump winning Louisiana with 58 percent of the vote on Nov. 8.
During a 20-minute speech, standing in front of a giant facsimile American flag, Pence pledged that the new administration would repeal the Affordable Care Act, better known as Obamacare, a stance that Kennedy supports.
Pence also promised that the administration would cut taxes, increase spending on defense, appoint conservative justices to the Supreme Court, repeal "unconstitutional" executive orders signed by Obama and build the wall along the Mexican border to keep out illegal immigrants.
The crowd roared its approval in the hangar.
"I'm ready for change," Greg Kempton, a small business owner in Gretna, said before the rally began. "We need to have a balanced budget, get term limits, get rid of corruption and repeal Obamacare."
Calvin McKenzie, a small business owner in Rayville, in north Louisiana, said he has known Kennedy since McKenzie called into the show of conservative talk host Moon Griffon when the treasurer was a guest.
"Ever since then, once or twice a year, he calls to talk," McKenzie said. "He's very personable. I think he'll be good for our country."
A crowd of about 25 protesters outside held the opposite view.
"Not my vice president," read one sign.
"No Pence, no KKK, no fascist USA!" chanted the crowd.
Jessie Nieblas, who lives in New Orleans and works for a nonprofit group, said she felt it was important to voice her opposition.
"There are still people in this country who stand for economic opportunity, justice for all and rights for all," she said.
---