Silicon
Valley
Super-Tech
Summit
12/14/2016
| | |
| --- | --- |
| WATCH THE FULL CONFERENCE HERE | President-elect Donald Trump addressed the room of tech executives from companies such as Apple, Twitter, Alphabet, and Tesla, discussing the future of technology in America and praising the executives for their skills. "Even more importantly, we want you to keep going with the incredible innovation," said Trump. "There's nobody like you in the world. In the world. There's nobody like the people in this room. And anything we can do to help this go along, and we're going to be there for you. And you'll call my people, you'll call me. It doesn't make any difference. We have no formal chain of command around here." Trump said. "And we're going to make fair trade deals. We're going to make it a lot easier for you to trade across borders," added Trump. "There's a lot of restrictions, a lot of problems that I think you see. And if you have any ideas on that, that would be great. Because there are a lot of border restrictions and a lot of border problems," he said. "You probably have less of a problem than some companies. Some companies have massive problems. But we're going to solve those problems." |
---
VIDEO SOURCE: C-SPAN
---
Tower Summit: Trump to Meet Silicon Valley Techies Who Funded Hillary Clinton, Democrats to Tune of Millions
Now that the election is over, President-elect Donald J. Trump will hold a technology summit at his base of operations, Trump Tower in New York City, on Wednesday with a group of Silicon Valley industry leaders. But most of them funded his presidential campaign opponent Democrat Hillary Clinton and her fellow Democrats to the tune of millions of dollars while avoiding giving to Trump's campaign and to Republicans generally. According to a Breitbart News analysis, the tech and telecommunications giants donated millions more to Clinton and Democrats than they did to Trump and Republicans—which means that whatever clout they would have had under a never-to-be Clinton administration is probably significantly diminished under the incoming Trump administration.
The CEOs and top executives attending the meeting according to a report in Recodeinclude: Google's Larry Page, Apple's Tim Cook, Facebook COO Sheryl Sandberg, Microsoft's Satya Nadella, and more. According to the Recode report, Facebook investor and PayPal co-founder Peter Thiel is intricately involved in helping organize the meeting of the minds.
In the case of Google, Apple, Facebook and Microsoft, those companies poured millions into backing Clinton—and barely anything into backing Trump.
According to data compiled by the Center for Responsive Politics, employees from Alphabet Inc.—which runs Google—gave $1,315,545 to Hillary Clinton's campaign while only donating $21,924 to Trump. To the Hillary Victory Fund, Google employees gave $571,327.52 according to Federal Election Commission (FEC) data—while only donating $1,000 to Trump Victory. The Center for Responsive Politics shows that Google employees gave $260,781 to the Democratic National Committee, but only $1,800 to the Republican National Committee. The pro-Hillary Clinton Super PAC Priorities USA got $10,000 from Google employees while a pro-Trump Super PAC, the Trump Make America Great Again Committee got just $1,854 from Google employees. Google donated $500,000 to both the Republican and Democratic National Conventions' host committees.
Apple, which is sending Steve Jobs' successor Tim Cook to the meeting with the president-elect, saw employees give $572,350 to Clinton's campaign, $147,195 to the DNC and $1,090,228.99 to the Hillary Victory Fund. Cook himself gave the maximum $2,700 to Clinton's campaign and gave $236,100 total to the Hillary Victory Fund. By contrast, Apple employees only gave $4,366 to Trump's campaign and just $500 to the RNC. No Apple employees, as far as what's available in reported FEC filings, appear to have given to Trump Victory.
Facebook employees gave $418,964 to Clinton's campaign, $91,517 to the DNC, and a whopping $541,132.14 to the Hillary Victory Fund. Sandberg, who will be at the meeting with Trump on Wednesday representing Facebook, personally gave $416,100 of that to the Hillary Victory Fund. By comparison, Facebook employees only gave $3,965 to Trump's campaign and don't appear to have spent on the RNC or Trump Victory. But Facebook did give both to the Cleveland 2016 Host Committee and the Philadelphia 2016 Host Committee, but gave more to the Democratic convention in Philadelphia than the GOP one in Cleveland. To the Democrats, Facebook gave $1,450,000 and to the Republicans it gave $1,000,000.
Microsoft employees gave $710,334 to Hillary Clinton's campaign, $399,380 to the DNC, and $405,615.22 to the Hillary Victory Fund. To the Trump campaign by comparison, Microsoft employees gave just $31,372, just $70,342 to the RNC, and just $5,923 to the pro-Trump Super PAC the Trump Make America Great Again Committee. Microsoft does appear to have given more to Republicans in terms of the conventions, as it gave $1.8 million in in-kind contributions to the GOP convention's host committee in Cleveland but gave $650,000 in cash to the Democrats' host committee in Philadelphia. PAC spending from Microsoft as an organization also includes $45,000 to the RNC from the company's PAC arm.
Amazon, whose CEO Jeff Bezos is "likely" to attend the meeting per the Recode report, saw its employees give $330,895 to Clinton's campaign while donating just $3,112 to Trump's campaign. Bezos also now owns the Washington Post, the biggest newspaper in the nation's capital Washington, D.C., which faced enormous criticism for its pro-Clinton anti-Trump media coverage of the 2016 election.
Cisco Systems, which is also sending its CEO Chuck Robbins, saw employees give $157,427 to Clinton's campaign and just $13,662 to Trump's campaign. Intel, whose CEO Brian Krzanich Rometty is attending the meeting with Trump, saw its employees give $146,444 to Hillary Clinton's campaign and just $11,862 to Trump's campaign.
Oracle, whose CEO Safra Catz will be at the meeting too, saw its workers give $178,444 to Clinton's campaign and just $12,880 to Trump's campaign. Despite the fact his company was funding Clinton way more than Trump, Catz issued a statement to Recode saying he and his team are "with" the president-elect.
"I plan to tell the president-elect that we are with him and will help in any way we can," Catz told Recode. "If he can reform the tax code, reduce regulation and negotiate better trade deals, the U.S. technology industry will be stronger and more competitive than ever."
Maybe that's right, that Trump can be better than anyone in the tech field—because he owes none of these people anything, really. Or anyone else for that matter. He's free to dream big and pursue what he thinks is best, with no strings attached to any donors seeking favors or anyone needing or wanting anything. Which is why Bill Gates, the founder of Microsoft who met with Trump on Tuesday, compared him to John F. Kennedy—the late idealistic former Democratic president.
---
Donald Trump to Silicon Valley Elites: 'Keep Going with the Incredible Innovation'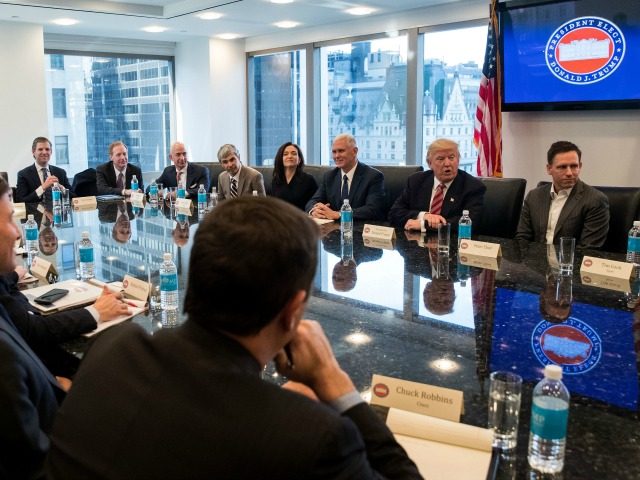 Trump addressed the room of tech executives from companies such as Apple, Twitter, Alphabet, and Tesla, discussing the future of technology in America and praising the executives for their skills.
"Even more importantly, we want you to keep going with the incredible innovation," said Trump. "There's nobody like you in the world. In the world. There's nobody like the people in this room. And anything we can do to help this go along, and we're going to be there for you. And you'll call my people, you'll call me. It doesn't make any difference. We have no formal chain of command around here."
"And we're going to make fair trade deals. We're going to make it a lot easier for you to trade across borders," added Trump.
"There's a lot of restrictions, a lot of problems that I think you see. And if you have any ideas on that, that would be great. Because there are a lot of border restrictions and a lot of border problems," he said. "You probably have less of a problem than some companies. Some companies have massive problems. But we're going to solve those problems."
Lucas Nolan is a reporter for Breitbart Tech covering issues of free speech and online censorship. Follow him on Twitter @LucasNolan_ or email him at This email address is being protected from spambots. You need JavaScript enabled to view it.
---
Trump to Tech Executives: 'I'm Here to Help You Folks Do Well'
Wednesday in New York City at Trump Tower, President-elect Donald Trump and Vice President-elect Mike Pence met with executives from several technology companies including Apple, Facebook, Microsoft, Cisco, Intel and Amazon.
Trump said, "I'm here to help you folks do well. And you're doing well right now and I'm very honored by the bounce. They're all talking about the bounce. So right now everybody in this room has to like me at least a little bit. We're going to try to have that bounce continue. And, perhaps even more importantly, we want you to keep going with the incredible innovation. There's nobody like you in the world. There's nobody like the people in this room and anything we can do to help this go along, we're going to be there for you and you'll call my people, you'll call me. It doesn't make any difference, we have no formal chain of command around here."
Follow Pam Key on Twitter @pamkeyNEN
---
Ferenstein: Silicon Valley's Oddly Illogical Rage Towards Trump Advisers
On the one hand, their furious that Trump would pick technical novices for White House posts, like former Texas Governor Rick Perry, who got a "C" in college Physics. Perry will be replacing the current Secretary Ernest Moniz, who formerly led a Physics lab at MIT.
This outrage might seem logical, but then, today, I found my Twitter feed overflowing with anger over the fact that a number of tech leaders, including Tesla's Elon Musk, have agreed to join Trump's business council advisory board. Tech has been anti-Trump since the beginning and are incensed that their leaders would join his ranks.
This outrage is conspicuously contradictory. It's illogical for folks to be angry that Trump picks non-experts, but then turn around and shame any respected expert he appoints.
Now, for me, I'm hesitantly supportive of tech leaders advising Trump. It's important that tech leaders advise Trump on smart policy. Two policies, in particular, deserve attention:
One, tech companies, especially Google and Facebook, store vast amounts of personal data on billions of users. They're also essential platforms for free speech. Trump and other governments around the world have made ominous threats to force tech companies to create government backdoors, which would likely allow foreign hackers to spy on American citizens and conduct corporate espionage. It's important that Trump understand how undermining security is a danger to Americans.
Second, no one on team Trump seems to have a plan for the kind of mass unemployment that could come from automation. Elon Musk is an expert in self-driving technology, which will wipe out millions of jobs. It's essential that Trump plan for this future.
Last, I'm mindful that protesting is an American value. If they feel Trump is a threat and can't be reasoned with, then perhaps it is OK for them to try and shame folks who advise the incoming administration.
But, it seems that many in the tech industry are expressing blind rage, rather than thoughtful criticism. This anger is leading them to overlook their core values of logic and reason.
---
Readout of President-Elect Donald J. Trump's Meeting with Tech Leaders
(New York, NY) — President-elect Donald J. Trump today met with more than a dozen of the greatest tech leaders in the country to begin a conversation and partnership in order to spark innovation and create more jobs in the U.S., particularly for working Americans.
In addition to the private sector leaders in attendance, the President-elect was joined by Vice President-elect Mike Pence, Jared Kushner, Ivanka Trump, Donald Trump Jr., Eric Trump, Peter Thiel, Reince Priebus, Steve Bannon, Wilbur Ross, Gary Cohn and Stephen Miller. During the meeting the President-elect discussed a wide range of issues impacting both American workers and American companies, including specific innovative solutions that have been blocked by narrow thinking in Washington.
The President-elect expressed an open mind and willingness to listen, which was greatly received by the industry leaders in attendance.
During the Tech Summit, the following topics were discussed:
Creating more jobs for American workers
Climinating barriers preventing American companies from doing business in other countries
America's competitive trade dynamic and market access with China
Cutting taxes
Repatriation of American profits kept overseas by prohibitive tax rates
Improving our physical and digital infrastructures
Protecting our intellectual property rights
Improving America's cybersecurity
Updating our government software systems
Technology in schools
The need for greater vocational education opportunities
Reducing bureaucracy
Introducing greater accountability in the government procurement process
The leaders in attendance also praised the ingenuity and energy of the American workforce, and President-elect Trump suggested reconvening the tech leaders again in the future, perhaps as frequently as every quarter.
Tech leaders in attendance included:
Jeff Bezos, Amazon
Safra Catz, Oracle
Tim Cook, Apple
Alex Karp, Palantir
Brian Krzanich, Intel
Elon Musk, Tesla
Satya Nadella, Microsoft
Larry Page, Google
Chuck Robbins, Cisco
Ginni Rometty, IBM
Sheryl Sandberg, Facebook
Eric Schmidt, Google
* * *
All media requests should be directed to This email address is being protected from spambots. You need JavaScript enabled to view it.
---