12/10/2016
| | |
| --- | --- |
| WATCH THE FULL INTERVIEW HERE | President-elect Donald Trump was welcomed at Saturday's 117th matchup between the Navy Midshipmen and the Army Black Knights with the tune of cheers. At the end of halftime, Trump went up to the booth to conduct an interview with CBS's Verne Lundquist and Gary Danielson with chants of "USA!" from the crowd before the interview began. When the president-elect showed up on the stadium jumbotron, the stadium erupted with cheers. "That is some scene. The cadets and the midshipmen are both reacting on the scoreboard," Lundquist said. "I love the armed forces, love the folks. The spirit is so incredible," Trump told Lundquist and Danielson at the beginning of the interview. |
---
VIDEO SOURCE: kerkey55 - YouTube
---
Trump Greeted With Cheers at Army-Navy Game
President-elect Donald Trump was welcomed at Saturday's 117th matchup between the Navy Midshipmen and the Army Black Knights with the tune of cheers.
At the end of halftime, Trump went up to the booth to conduct an interview with CBS's Verne Lundquist and Gary Danielson with chants of "USA!" from the crowd before the interview began.
When the president-elect showed up on the stadium jumbotron, the stadium erupted with cheers.
"That is some scene. The cadets and the midshipmen are both reacting on the scoreboard," Lundquist said.
"I love the armed forces, love the folks. The spirit is so incredible," Trump told Lundquist and Danielson at the beginning of the interview.
---
'First Day of Trump's Presidency': President-Elect Highlights Sacrifice of America's Armed Forces at Army-Navy Game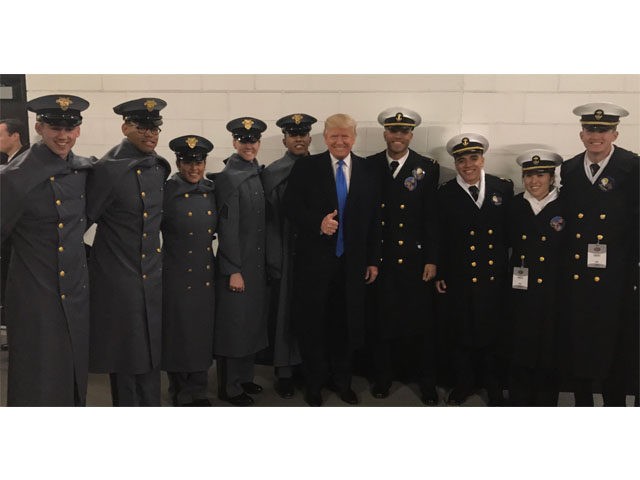 President-elect of the United States of America Donald J. Trump emerged on Saturday as a Commander-in-Chief-in-waiting at the annual Army-Navy football game, unifying the country—and her armed forces—behind his incoming administration.
"Yesterday was the first day of Donald Trump's presidency. It was Reagan-esque in that it grasped the importance of symbolism," David Urban, a West Point graduate and senior adviser to the president-elect's campaign whose box Trump sat in for the first half, told Breitbart News. "Donald Trump not only understood the significance of the Army-Navy game and all it stands for in America, but he understands those visual images of him standing with the men and women of the armed services are seen across the world by our friends and enemies alike."
President-elect @realDonaldTrump #ArmyNavyGameDay @ArmyWP_Football @NavyFB pic.twitter.com/zGDFzKGkYZ

— Dan Scavino Jr. (@DanScavino) December 10, 2016
The crowd went wild for Trump when came into the stadium, with such a roar for Trump that broadcasters carrying the game on live television interrupted their color commentary to note that the crowd reaction was to the President-elect's entrance into the stadium being carried live on the Jumbotron screen at the M&T Bank Stadium in Baltimore, the home of the Baltimore Ravens.
President-Elect @realDonaldTrump's arrival to #Army #Navy game in Baltimore, Maryland this afternoon. AMAZING. https://t.co/PBT8JalnyD

— Dan Scavino Jr. (@DanScavino) December 11, 2016
Trump, in an interview with Fox News Sunday anchor Chris Wallace—who accompanied him to the Army-Navy game—said "it's a big responsibility" that he's about to undertake as Commander-in-Chief.
"We have to make the right decisions," Trump told Wallace. "It really is. It's a daunting responsibility. I will do the job."
Being at the Army - Navy Game was fantastic. There is nothing like the spirit in that stadium. A wonderful experience, and congrats to Army!

— Donald J. Trump (@realDonaldTrump) December 11, 2016
Trump in the Wallace interview said that the Army-Navy game "is just something I've wanted to see."
"It's beautiful, it's hopefully going to be a good game," he said. "But really it's just something I wanted to see. It's the Armed Forces, the way I look at it. And I love and respect the Armed Forces. I mean, I think we're going to have a good time."
The president-elect, in his younger days, attended New York Military Academy, somewhere he learned about the sacrifice those in uniform make for the country.
"I learned that I respected [military discipline]," Trump said of his time at New York Military Academy. "And I learned that I respected people in the military and I always have, at least since I've been there. We had military people there; we had drill sergeants and colonels and we actually had a general. I always respected those people and I learned that at a young age. They're terrific."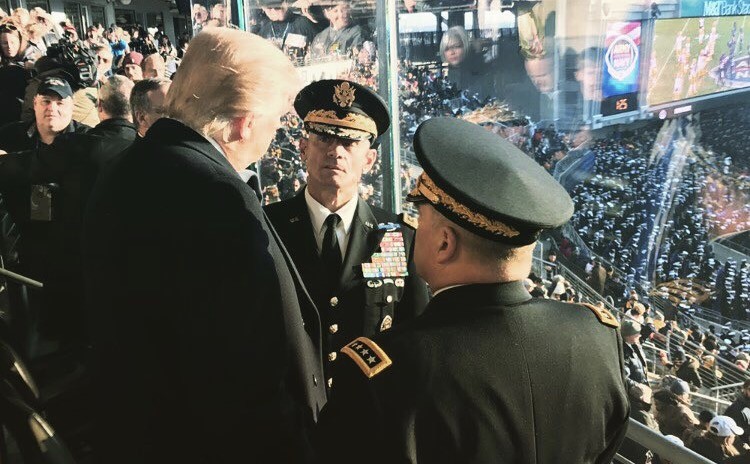 Urban, whose work in Pennsylvania for Trump after joining his campaign when former Sen. Rick Santorum dropped out in the early parts of the primary proved crucial in not just the primaries but also the general election, told Breitbart News that the images of Trump interacting with the Army cadets and Navy midshipmen were iconic and reminded him of when President Ronald Reagan rallied the military when he was president-elect.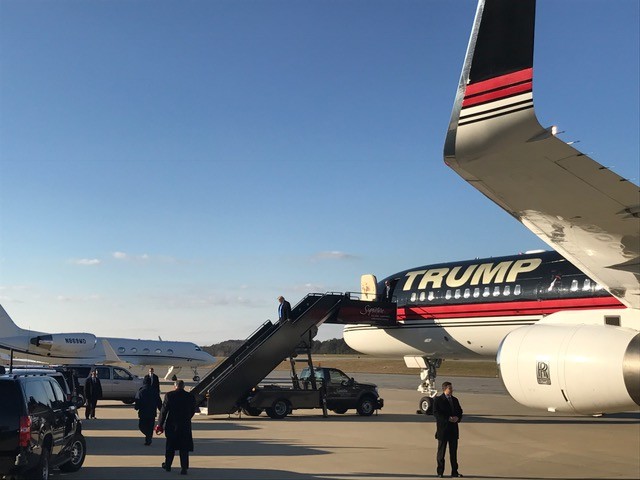 "You saw a commander-in-chief who when he entered the stadium took the time to shake the hands of the cadets and midshipmen who were waiting to meet him and looked each one of them in their eyes and said 'thank you' to them," Urban, the man responsible for delivering Pennsylvania's 20 electoral votes to Trump in the general election, said in a phone interview. "Serving, he understands it on a personal level and has a great personal affection for all of those who served in harm's way and are willing to serve in harm's way and make the ultimate sacrifice. President-elect Trump understands that the young men who suited up and played yesterday's game, upon graduation are going to put themselves in harm's way to keep our nation safe."
Hello #TrumpTrain🚂💨🇺🇸🇺🇸 #ArmyNavyGameDay pic.twitter.com/sic6FguEWY

— Dan Scavino Jr. (@DanScavino) December 10, 2016
In Urban's box, the "Army Box"—where Trump spent the first half of the game before heading over to the "Navy Box" with retired U.S. Marine Corps Col. Ollie North for the second half—were West Point's superintendent Army Lt. Gen. Robert L. Caslen, Jr., U.S. Army Chief of Staff Gen. Mark Milley, West Point grad and CIA director-nominee for the Trump administration Rep. Mike Pompeo (R-KS). Retired Army Gen. Pete Dawkins, another West Point grad who won the Heisman Trophy in 1958 as Army's running back—and was also a Rhodes Scholar—was there too, as was retired two-time Super Bowl winner and Dallas Cowboys quarterback Roger Staubach. Staubach also won the Heisman trophy when he played for Navy back in 1963, and served in Vietnam in the U.S. Navy after graduation before joining the NFL.
At Army-Navy game, Trump says thought of leading US soldiers, sailors 'humbling' https://t.co/24KJQvDDdo pic.twitter.com/NZVuAYu9Wk

— Fox News (@FoxNews) December 11, 2016
Lynn Swann, a four-time Super Bowl champion wide receiver for the Pittsburgh Steelers including when he was the Super Bowl MVP in 1976 at Super Bowl X was there too, as were Trump's senior advisers former New York City mayor Rudy Giuliani, retired U.S. Army Lt. Gen. Michael Flynn—who's also the former director of the Defense Intelligence Agency and the incoming National Security Adviser to the president—outgoing RNC chairman and incoming White House chief of staff Reince Priebus, former Breitbart News executive chairman and incoming chief strategist for the president Steve Bannon and incoming deputy National Security Adviser K.T. McFarland. Bannon's daughter Maureen, a West Point graduate, was there too, as were UnderArmour founder and CEO Kevin Plank, 7/11 CEO and West Point graduate Joe DePinto, former Veterans Affairs Secretary and former Republican National Committee chairman Jim Nicholson, and retired Navy Rear Admiral Ken Braithewaite. Capt. Kristen Griest and 1st Lt. Shaye Haver, the first two women to graduate from Army Ranger School who are currently still serving, were also there.
President-Elect @realDonaldTrump joined by friends Roger Staubach and Lynn Swann at the #Army #Navy game yesterday in Baltimore, Maryland. pic.twitter.com/g8kRi0bYCG

— Dan Scavino Jr. (@DanScavino) December 11, 2016
Trump went on to join legendary sports broadcaster Verne Lundquist in his studio for part of the game.
#PEOTUS @realDonaldTrump joined legendary @CBSSports @SEConCBS broadcaster Verne Lundquist in the booth today- we will miss you Verne! pic.twitter.com/EuS0yQFPKp

— Dan Scavino Jr. (@DanScavino) December 11, 2016
"I thought it was a wonderful gesture of support for our military and it demonstrates that President-elect Trump really gets the responsibility and the honor to be the Commander-in-Chief, which includes expressions of support for the military which he did by taking a Saturday and going to Baltimore to be with the West Point Cadets and Naval Academy Midshipmen for their classic traditional rivalry which is much more than just a football game but a showing of the military's role in our culture and it's watched by the military both active and former—the 22 million veterans of our country," Nicholson, the former Veterans Affairs Secretary, told Breitbart News in a phone interview. "So it has a great following and for him to be there to be with the teams and the fans and all the other people watching was a real expression I think of his grasp of the role of Commander-in-Chief."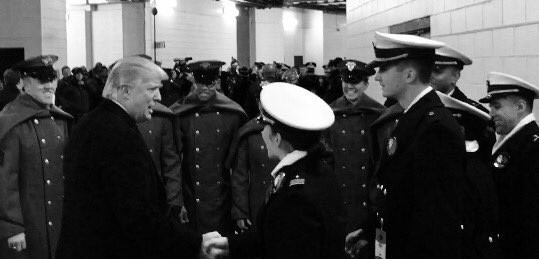 Courtesy of President-elect Donald Trump's director of social media @DanScavino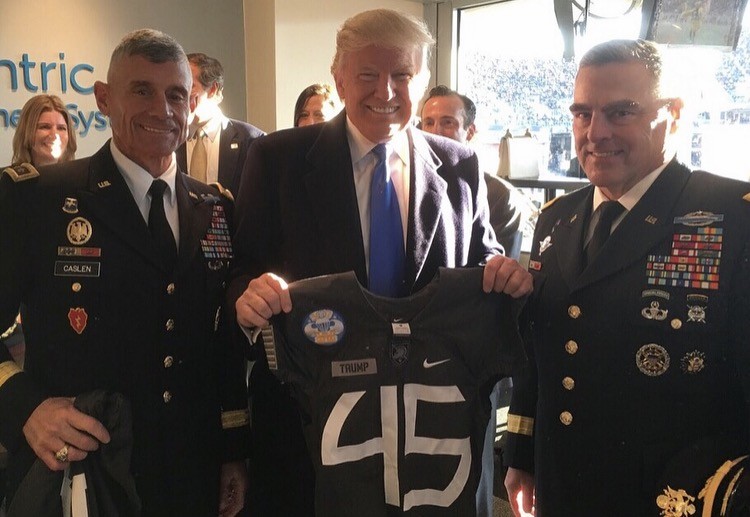 Courtesy of President-elect Donald Trump's director of social media @DanScavino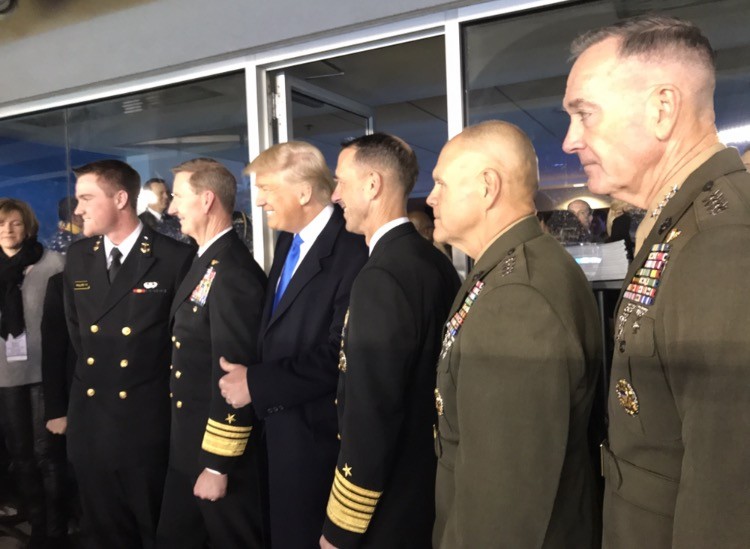 Courtesy of President-elect Donald Trump's director of social media @DanScavino
Nicholson added that the military community is thrilled to have Trump on board as the next leader of America's armed forces.
"He got a rousing welcome there from the military, and the people who go to a game like that are themselves very pro-military and attached to the military in different ways," Nicholson said. "They were most enthusiastic about his presence there throughout the chain of command from the cadets all the way through to the Chief of Staff of the Army who spent most of the first half with us in the box."
Braithewaite, the retired Navy Rear Admiral who's also helping with the Trump transition team, told Breitbart News he's heard from many servicemen and women over the past few weeks and they're ecstatic Trump is becoming President.
"There is a groundswell of just improved morale across all of the Armed Services and it's just amazing to see," Braithewaite told Breitbart News. "I haven't seen this in my 30-some years of Naval service. You just get the sense of born again patriotism. Yesterday, Mr. Trump was so well-received by the military that it really does signal a new beginning for our military forces and for our country. I think it's a reclamation of our patriotism and a belief in the foundation of our country—duty, honor, country."
Braithwaite, who joined the Naval Academy back toward the end of former President Jimmy Carter's administration, compared the energy for Trump in the Armed Forces community to that which Ronald Reagan saw as he was about to take office.
"I joined the Navy at the end of the Carter administration and the transformation when President Reagan came in was just unbelievable," Braithwaite said. "It was palpable. You could feel it, and it was overnight. I'll tell you, I feel the same way now, that this has been probably the first time in the last 20 some years when we felt this kind of support from the Commander-in-Chief and I think that was really kind of evident yesterday at the game. I think that people saw for the first time the kind of Commander-in-Chief that President-elect Trump will be and it's, again, a kind of rebirth of patriotism across our country."
Braithewaite believes that the troops see in Trump someone who believes in them.
"I think he believes in them," he said. "As part of the transformation team, I am hearing constantly from them that for the first time in a long time they feel like there's an emphasis on their service. Our military people are out there sacrificing each and every day personally and professionally. They feel this is a new dawn if you will in getting the kind of support from a Commander-in-Chief that will really help them in being the preeminent military service in the world and reclaiming the stature of America. It's pretty amazing, I will tell you, and it's a phenomenal opportunity to see the military recognized for what they're preparing to do—what they're preparing to sacrifice—on behalf of all of us to guarantee our freedom. That's huge."
Swann, the former Pittsburgh Steelers wide receiver who went on to serve as former President George W. Bush's chair of the President's Council on Fitness, Sports and Nutrition, told Breitbart News that Trump's appearance at the Army-Navy game was huge for the cadets and midshipmen and all those serving the country right now.
"I think it was very important to all of the branches of the service and especially to the cadets and midshipmen and young people serving in the military that can see a demonstration of support from the incoming president," Swann said in a phone interview. "I think there was genuine excitement for President-elect Trump being there, and I think throughout his campaign he has always supported the military and leading with the strength of the military. I don't think the president-elect is ever going to allow his military to go without. Back when it comes to being supportive of the best equipment and the best training and thoughtfulness about how they're deployed and how they're used. But as you know, most people and most leadership throughout the military, while they serve, there's no political opinion—they serve the Commander-in-Chief, and he's going to be the next Commander-in-Chief."
Swann's son, who plays for Army, helped the team win its first game in the iconic annual rivalry in 15 years. "That's right—and a great moment for the Superintendent and the head coach, they've been behind for a number of years and for all of these varsity players to get a gold star for the win over Navy on their letterman's jacket, that's huge," Swann said when asked about how it felt for Army to win.
Looking forward, each of these guys and more that Breitbart News spoke with believes that it's morning in America again and Trump represents a fresh new style of leadership in the United States.
When asked to compare his history as a winner with Trump's theme of winning, Swann noted that despite the intense Army-Navy rivalry over the years, at the end of the day these guys are all on the same side against America's enemies on the world stage.
"I don't think the President-elect has ever shied away from the fact that he's coming out on top, being the winner," Swann said. "He's based most of his personal career, and everything else he's done, on being a winner. When look at a rivalry team like Army and Navy, it's very competitive. It's a big rivalry game. It's about winning. But when you look at the Army and Navy, you want them both to win because eventually and essentially they are on the same team."
Don't miss @FoxNewsSunday w/ #PEOTUS @realDonaldTrump & host Chris Wallace @ 10amE- from Trump Tower, #TrumpForceOne✈️& the #ArmyNavy game. pic.twitter.com/2EEJy6KKba

— Dan Scavino Jr. (@DanScavino) December 11, 2016
Nicholson believes Trump's appearance at the game—the first ever by a president-elect, and the current outgoing President Barack Obama has only gone to one such game—was a huge morale booster for the military.
"I think it was a real morale boost for the military, which they need these days, and it was a sign they're going to have a real friend and supporter and morale encourager in this new Commander-in-Chief they're going to have in a few weeks," Nicholson said.
Braithewaite sees a bright future ahead.
"As an American, as a military member, as a veteran, the future is really bright for our country and for those of who don the uniform for our country," Braithewaite said.
---
Trump at Army-Navy game to salute armed forces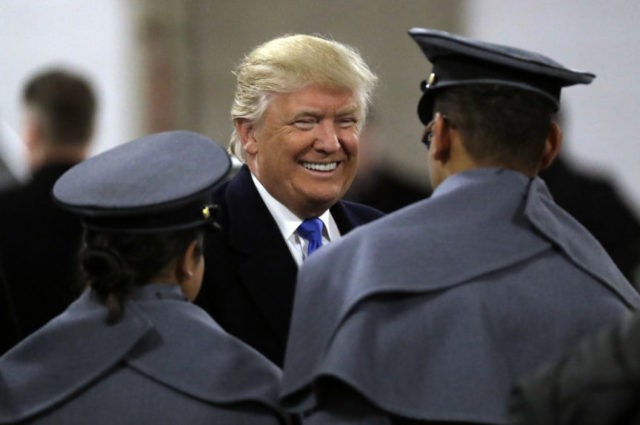 NEW YORK (AP) — Donald Trump is partaking in one of the nation's most storied football rivalries, saluting U.S. troops at the annual Army-Navy game on Saturday as he prepares to enter the White House.
The future commander in chief attended the 117th game between the military academies at West Point and Annapolis, which is being held on relatively neutral ground, in Baltimore, Maryland.
Trump tweeted on Saturday morning that he was going to the game "as a show of support for our Armed Forces." He planned to spend the first half of the game in the box of David Urban, a West Point graduate and Republican adviser and the second half in the box of retired Marine Lt. Col. Oliver North, a graduate of Annapolis.
A Trump transition official said Trump would not formally switch sides at halftime in the traditional symbol of commander in chief neutrality because he is not the sitting president. The team member spoke on condition of anonymity to describe the president-elect's plans. Trump is a 1964 graduate of the New York Military Academy near West Point.
Before the game, Trump met with Exxon Mobil CEO Rex Tillerson, a leading contender for secretary of state. Trump's pick to lead the State Department is among his most significant decisions and the deliberations have become a source of tension within his transition team, with chief of staff Reince Priebus said to be backing Mitt Romney while other advisers oppose the idea of selecting the 2012 GOP nominee, given his fierce criticism of Trump during the campaign.
Tillerson, who has led Exxon Mobil since 2006, and also met Trump earlier in the week.
In addition to Romney, Trump has also been considering Tennessee Sen. Bob Corker and John Bolton, the former U.S. ambassador to the United Nations.
Trump announced Friday that Rudy Giuliani, the former New York mayor who was an early favorite, was no longer under consideration.
Trump's appearance at the football game was capping off a week of rolling out Cabinet picks, holding "thank you" rallies in North Carolina, Iowa and Michigan, and trying to cement his incoming Senate majority with Saturday's runoff election in Louisiana.
The incoming president appeared jovial and relaxed as he plunged back into electoral politics on Friday, a full month after he won the presidency. He held large-scale events in Louisiana and in Michigan, where he regaled supporters in Grand Rapids by reciting his victories in battleground states.
Trump is the first Republican to win Michigan since George H.W. Bush in 1988. He attributed his feat to failures by Democrats.
In private, people close to Trump said he was expected to name yet another Goldman Sachs executive to his White House team. The president-elect's National Economic Council is to be led by Gary Cohn, president and chief operating officer of the Wall Street bank, which Trump repeatedly complained during the election campaign would control Hillary Clinton if she won.
___
Associated Press writers Lisa Lerer, Julie Pace, Julie Bykowicz and Lolita Baldor in Washington and Thomas Beaumont in Des Moines, Iowa contributed.
___
Reach Thomas on Twitter at www.twitter.com/KThomasDC
---