Betsy
Devos
confirmation
hearing
01/17/2017
| | |
| --- | --- |
| WATCH THE FULL CONFERENCE HERE | Senate Democrats on the chamber's Health, Education, Labor, and Pensions (HELP) Committee pressed Betsy DeVos during her confirmation hearing Tuesday evening with questions about her financial contributions, her knowledge of federal education laws, and her intentions toward the nation's public schools. Democrats complained that committee members had not yet received the proper paperwork on DeVos from the Office of Government Ethics prior to the start of the hearing, and made every effort to protest to committee chairman Sen. Lamar Alexander (R-TN) that they should be permitted another round of questions. The senators also presented DeVos as having a mission to end federal funding to public schools through "privatization," i.e., allowing parents to utilize taxpayer-funded vouchers to "follow the child" to a private or religious school of their choosing. DeVos responded that she believed in "great" public schools and intended to support all schools that are providing children with a good education based on "outcomes." |
---
VIDEO SOURCE: PBS NewsHour - YouTube
---
Senate Democrats Portray Betsy DeVos as Outrageously Wealthy, Unqualified, and Driven to Privatize Schools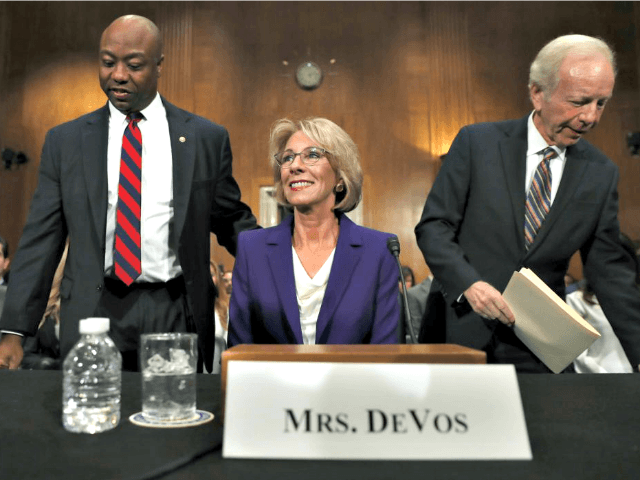 Democrats complained that committee members had not yet received the proper paperwork on DeVos from the Office of Government Ethics prior to the start of the hearing, and made every effort to protest to committee chairman Sen. Lamar Alexander (R-TN) that they should be permitted another round of questions.
Democrats' questions for DeVos, who was introduced by Sen. Tim Scott (R-SC) and former Sen. Joe Lieberman (I-CT), were largely intended to have her appear inexperienced and unqualified to serve as head of the federal education department. The senators portrayed her as an extremely wealthy woman who might be entangled in multiple ethical conflicts due to her massive portfolio and contributions to the campaigns of many of the Republicans on the HELP committee.
The senators also presented DeVos as having a mission to end federal funding to public schools through "privatization," i.e., allowing parents to utilize taxpayer-funded vouchers to "follow the child" to a private or religious school of their choosing. DeVos responded that she believed in "great" public schools and intended to support all schools that are providing children with a good education based on "outcomes."
Sen. Elizabeth Warren (R-MA) had the following exchange with DeVos:
Warren: Ms. DeVos, many of my Democratic colleagues have pointed out a lack of experience in K-12 public schools, but I'd like to ask you about your qualifications for leading the nation on higher education.

The Department of Education is in charge of making sure that the $150 billion that we invest in students each year gets into the right hands, and that students have the support they need to be able to pay back their student loans. The Secretary of Education is essentially responsible for managing a trillion dollar student loan bank, and distributing $30 billion in Pell grants to students each year. The financial futures of an entire generation of young people depend on your department getting that right.

Now, Mrs. DeVos, do you have any direct experience with running a bank?

DeVos: Senator, I do not.

Warren: Aha, have you ever managed or overseen a trillion dollar loan program?

DeVos: I have not.

Warren: How about a billion dollar loan program?

DeVos: I have not.

Warren: Okay! So, no experience managing a program like this! How about participating in one? I think it's important for the person who is in charge of our financial aid programs to understand what it's like for students and their families who are struggling to pay for college.

Mrs. DeVos, have you ever taken out a student loan from the federal government to help pay for college?

DeVos: I have not.

Warren: Have any of your children had to borrow money in order to go to college?

DeVos: They have been fortunate not to.

Warren: Aha, have you had any personal experience with the Pell grant?

DeVos: Not personal experience, but certainly friends and, um, students with whom I've worked.

Warren: So, you have no personal experience with college financial aid or management of higher education. Mrs. DeVos, let's start with the basics. Do you support protecting federal taxpayer dollars from waste, fraud, and abuse?

DeVos: Absolutely.

Warren: Oh, good. So do I. Because now we all know that President-elect Trump's experience with higher education was to create a fake university, which resulted in his paying $25 million to students that he cheated. So, I'm curious about how the Trump administration would protect against waste, fraud, and abuse at similar for-profit colleges.

So, here's my question: how do you plan to protect taxpayer dollars from waste, fraud, and abuse by colleges that take in millions of dollars of federal student aid?

DeVos: Senator, um, if confirmed, I will certainly be very vigilant…
Ranking member of the committee Sen. Patty Murray also asked DeVos if she would commit to not privatizing, or allowing taxpayer funding to "follow the child" from public schools to private and religious schools.
DeVos responded by saying she would commit to addressing the needs of "all parents and students," and added that some schools are not working for students.
"I take that is not being willing to commit to not privatize public schools?" Murray asked.
"I guess I would not characterize it in that way," DeVos said.
DeVos repeatedly mentioned that she intended to implement the federal Every Student Succeeds Act (ESSA) "as it was intended."
Passed in December of 2015 and immediately signed into law by President Barack Obama, ESSA was pushed quickly through Congress by Sen. Alexander himself. He reminded the committee on several occasions during DeVos' hearing that the ESSA law was "bipartisan" and praised by Obama as a "Christmas miracle."
Establishment Republicans contend the ESSA law "repealed" the Common Core mandate, however, many experts on the law say it actually cements the hotly debated standards in the states. ESSA, which replaced No Child Left Behind, requires every state to submit its plan for standards for approval to the U.S. Department of Education.
Often referring to herself as a "mom," DeVos portrayed herself during questioning as a "sensitive," concerned education reformer who wants only what's best for parents and children.
---
John Boehner Endorses Betsy DeVos for Education Secretary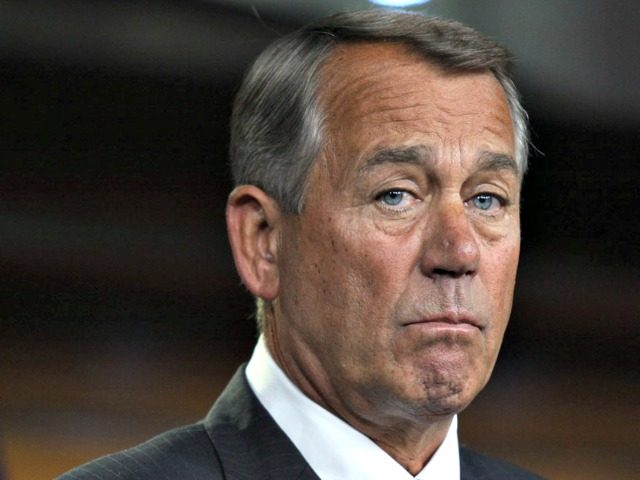 In a post on his website, Boehner says DeVos "understands the need for constant innovation in our education system."
The former speaker says he has known DeVos for "more than 20 years," and that she was "instrumental during my years working with legislators of both parties to establish and defend" the D.C. Opportunity Scholarship Program (DCOSP), a school choice program in Washington, D.C.
DCOSP was condemned by supporters of teachers unions who feared school choice legislation would deprive public schools of their federal funding.
"A champion for education reform, Betsy DeVos stood with us every step of the way, working side by side with me and many other proponents of equal opportunity in education to ensure the program continued," Boehner writes.
Boehner went on to say that DeVos, whose confirmation hearings begin January 17,  has been a partner in the development of the future workforce of America:
"She knows that in order to ensure the next generation of Americans can compete and lead the world, we have to have an education system in which doors are open to continual improvement. And she has applied that knowledge with courage and conviction for years, personally leading major education reform initiatives in support of charter schools, school choice and other innovations that have opened new doors for students in her native Michigan and throughout the country."
"With Betsy DeVos at the helm of the U.S. Department of Education, our country is going to gain that type of leadership," he writes. "I know she'll serve as Education Secretary in the same manner in which she's done everything since I've known her: with honor, grace, courage and compassion for those most in need of a hand up."
---
GETTY IMAGES
---
.@BetsyDeVos has the talent, commitment, and leadership capacity to revitalize our public schools and deliver the promise of opportunity.

— Eva Moskowitz (@MoskowitzEva) January 17, 2017
---
Former Sen. Lieberman Says DeVos Is "Ready To Take On This Assignment And Do It Very Well"
---
Joe Lieberman On DeVos: It Is In "Our National Interest" To Allow Her To Bring Change To Ed Dept
---
Sen Alexander Backs DeVos Nomination For Education Secretary She "Is On Our Children's Side"
---
Sen. Burr Thanks DeVos For Her Commitment To Education And "For All The Kids Who Have Been Impacted"
---
Sen. Collins: "I Have No Doubt That You Care Deeply About The Education Of All Children."
---
Sen. Orrin Hatch: Few Others Have Done What Betsy DeVos Has Done For Education
---
Sen. Scott Backs DeVos: A "Leader And A Doer" Who Will Be "Our Champion For All Children"
---