11/03/2016
| | |
| --- | --- |
| WATCH THE FULL RALLY HERE | Donald Trump addressed some 17,500 supporters in a nighttime rally in rural North Dakota, promising to boost military spending in a Trump administration. The event began with a presentation honoring Medal of Honor winners and retired generals and admirals. They remained onstage as Trump spoke. He sounded a humble note as he praised one of the veterans: "I couldn't have done what he did. I'm brave in other ways. I'm financially brave. Big deal," Trump said. Trump promised to expand military spending in all branches of the armed forces, including the US. Marine Corps, which he promised to expand from 27 to 36 battalions. He also and mentioned nearby Fort Bragg several times, to cheers from the audience. He also referred to many other bases in the state. The Army is the smallest it has been since before World War II. The Navy is the smallest since World War I. The Air Force is the smallest and oldest it has ever been. My plan will grow the Army to 540,000 active troops, which the Army Chief of Staff says he needs. That means more Brigade Combat Teams at Fort Bragg. We will build the 1,200 modern fighters our Air Force needs, and that means more planes flying out of locations like Seymour Johnson Air Force Base and Marine Core Air Station Cherry Point. Our Marine Core will grow from 27 to 36 battalions, and that's going to mean a lot more Marines at Camp Lejeune. And new military technologies will be produced at the Research Triangle right here in North Carolina. In summary, my policy can be based on three very important words: Peace Through Strength. |
---
VIDEO SOURCE: ALL TRUMP SPEECHES & RALLIES 2016 - YouTube
---
Trump Accuses Clinton of 'Perjury,' Promises Military Spending in NC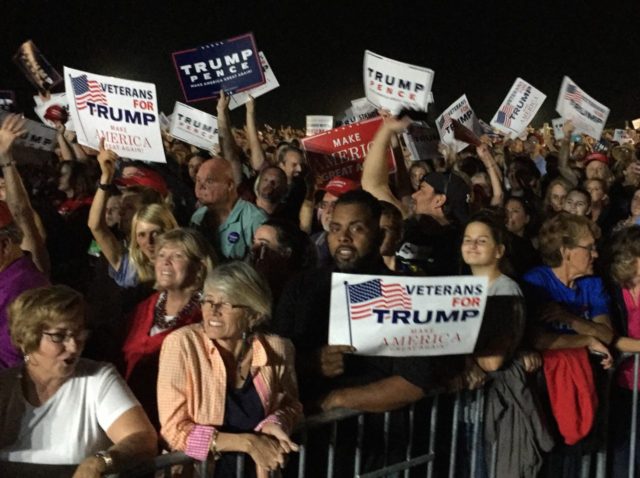 SELMA, North Carolina — Donald Trump addressed some 17,500 supporters in a nighttime rally in rural North Dakota, accusing rival Hillary Clinton of "perjury" regarding her email server, and promising to boost military spending in a Trump administration.
The event began with a presentation honoring Medal of Honor winners and retired generals and admirals. They remained onstage as Trump spoke.
He sounded a humble note as he praised one of the veterans: "I couldn't have done what he did. I'm brave in other ways. I'm financially brave. Big deal," Trump said.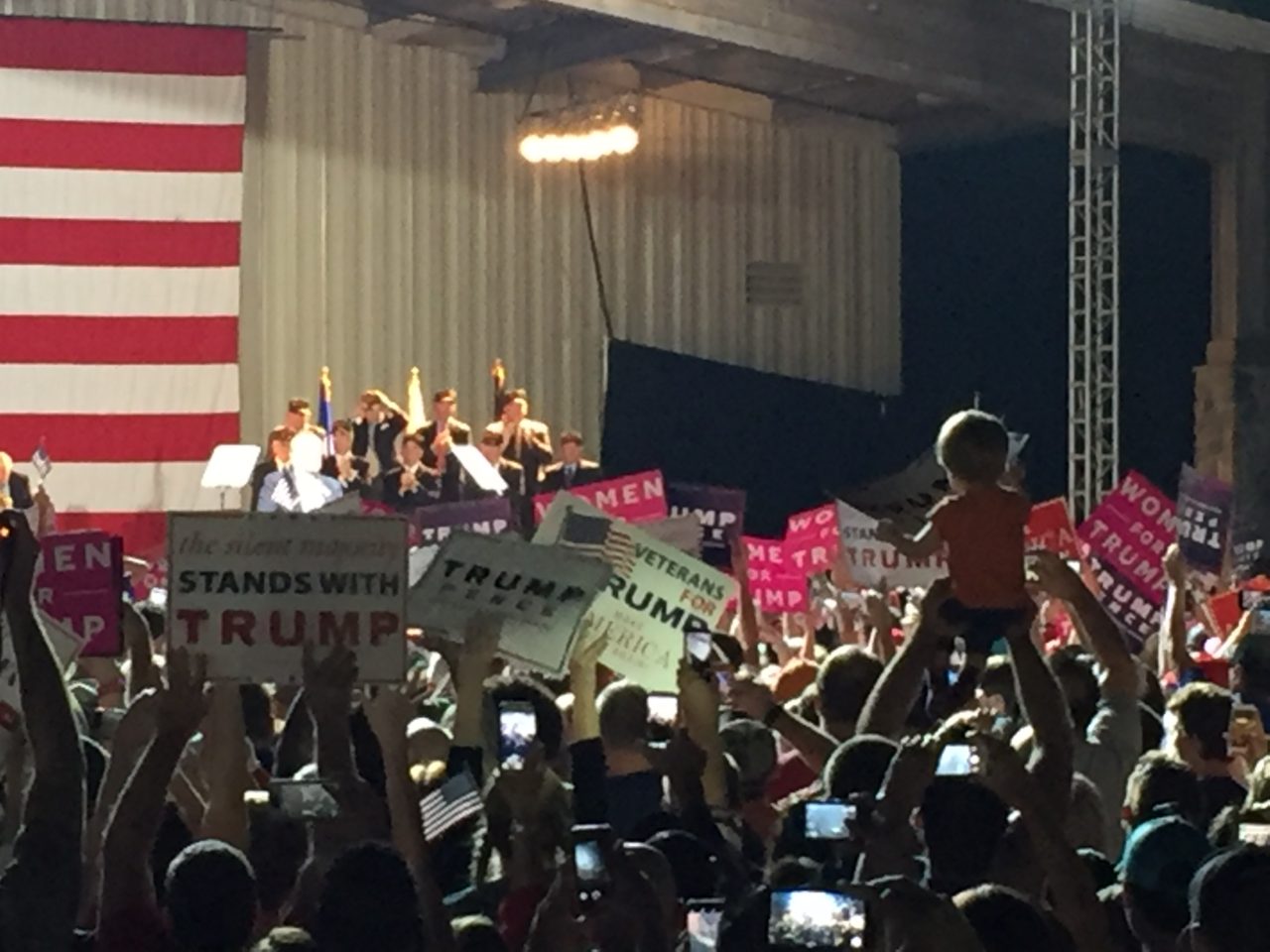 He mocked the idea of Hillary Clinton as commander-in-chief.
"And to think of Hillary being their boss? And you know they're incredible patriots. They'd never say a thing. But I know what they're thinking."
Trump promised to expand military spending in all branches of the armed forces, including the US. Marine Corps, which he promised to expand from 27 to 36 battalions. He also and mentioned nearby Fort Bragg several times, to cheers from the audience. He also referred to many other bases in the state.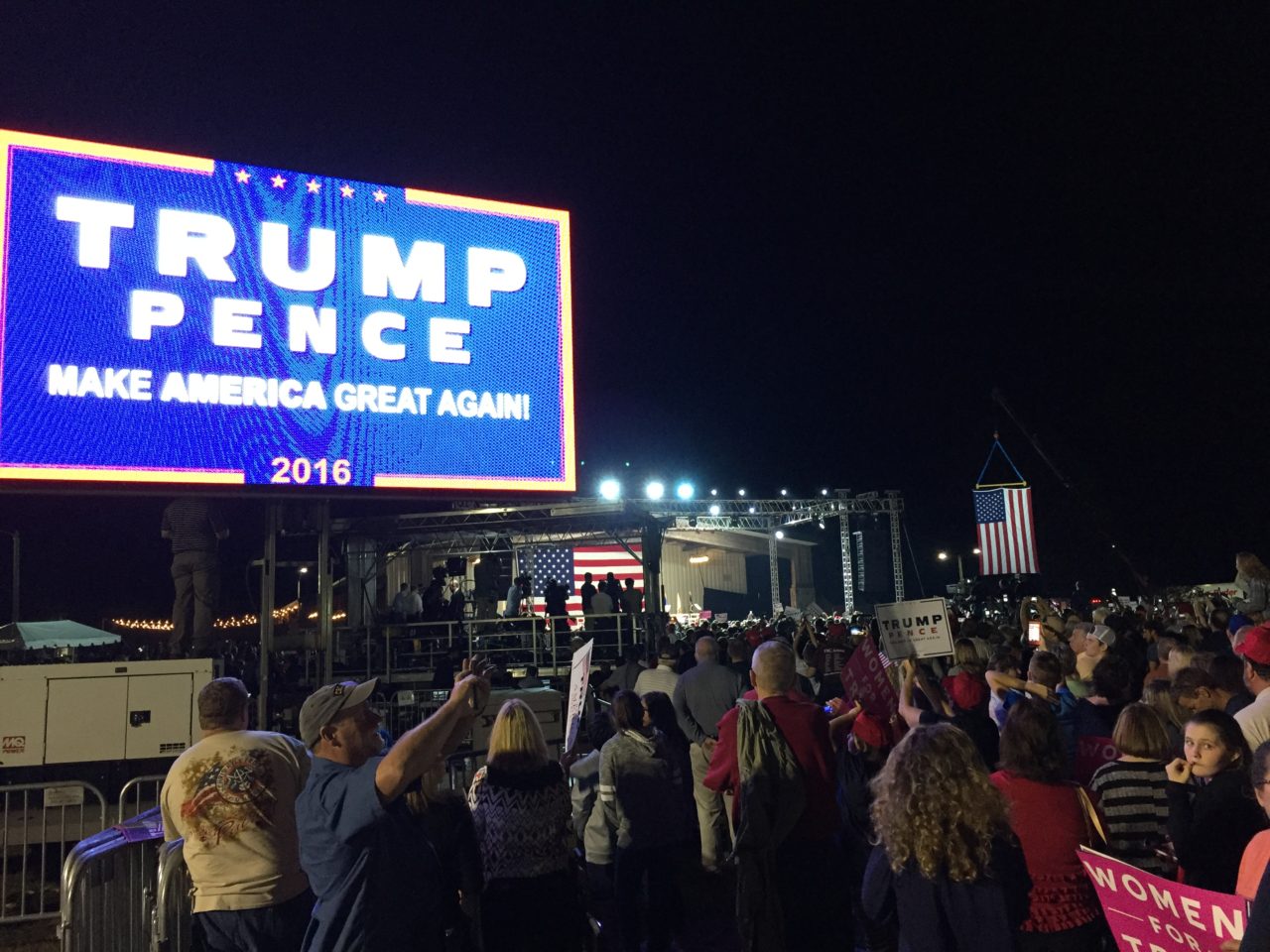 As he has done at several recent rallies, Trump offered the audience the most recent update on Hillary Clinton's various scandals. He said that new emails discovered by the FBI are evidence that Hillary Clinton committed "perjury."
In response to calls of "Benghazi!" from the crowd, Trump said: "A Trump administration will leave no man and no woman behind."
According to @dmartosko, @HillaryClinton & @Pharrell & @SenSanders drew 4,180 in #Raleigh, while @realDonaldTrump drew 17,500 in #Selma. #NC

— Joel B. Pollak (@joelpollak) November 4, 2016
He slammed President Barack Obama — whom he called the "campaigner-in-chief" — for campaigning with someone who is under criminal investigation by the FBI.
And Trump slammed Obamacare, promising to repeal and replace the ailing policy.
"95 of 100 North Carolina counties will have only one insurer on the Obamacare exchange," he warned. He added: "But it doesn't matter. When I win, we're terminating it."
He also name-checked Wisconsin, possibly with the likelihood of having his remarks noticed there, where he is running just a few points behind Clinton.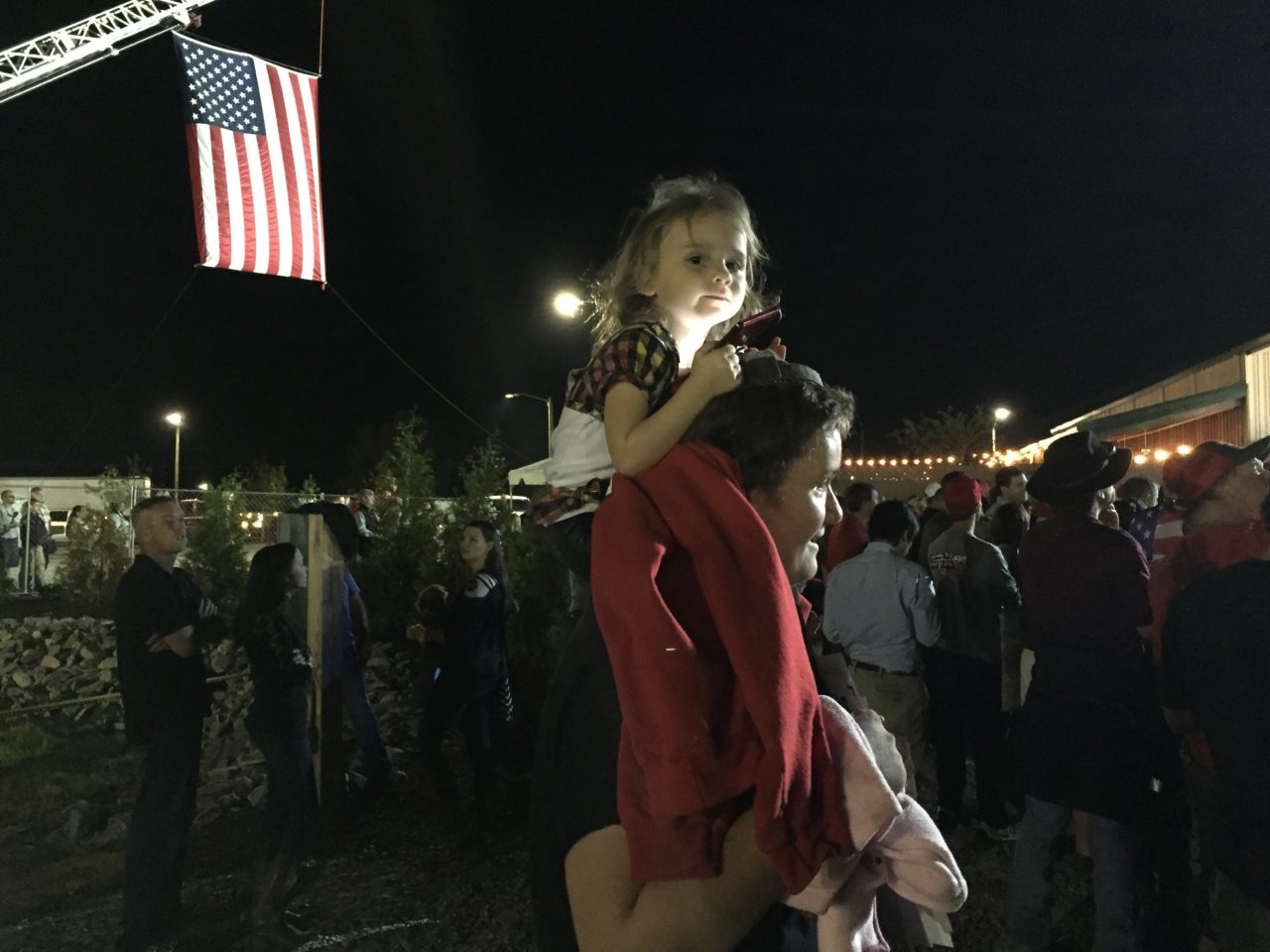 The crowd was massive, and enthusiastic, with children perched on parents' shoulders.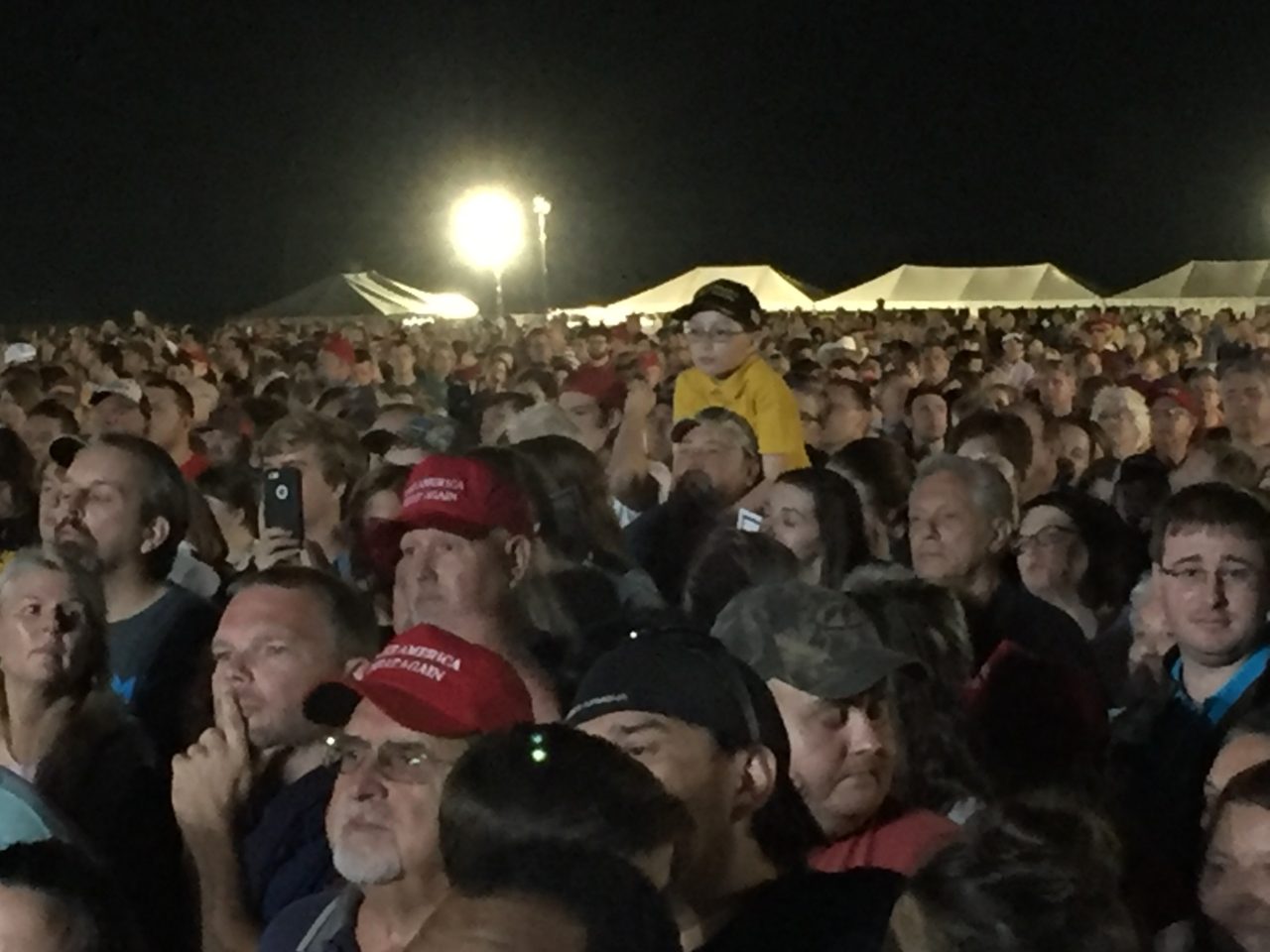 There was also  a sea of signs — some familiar from the campaign trail, some homemade.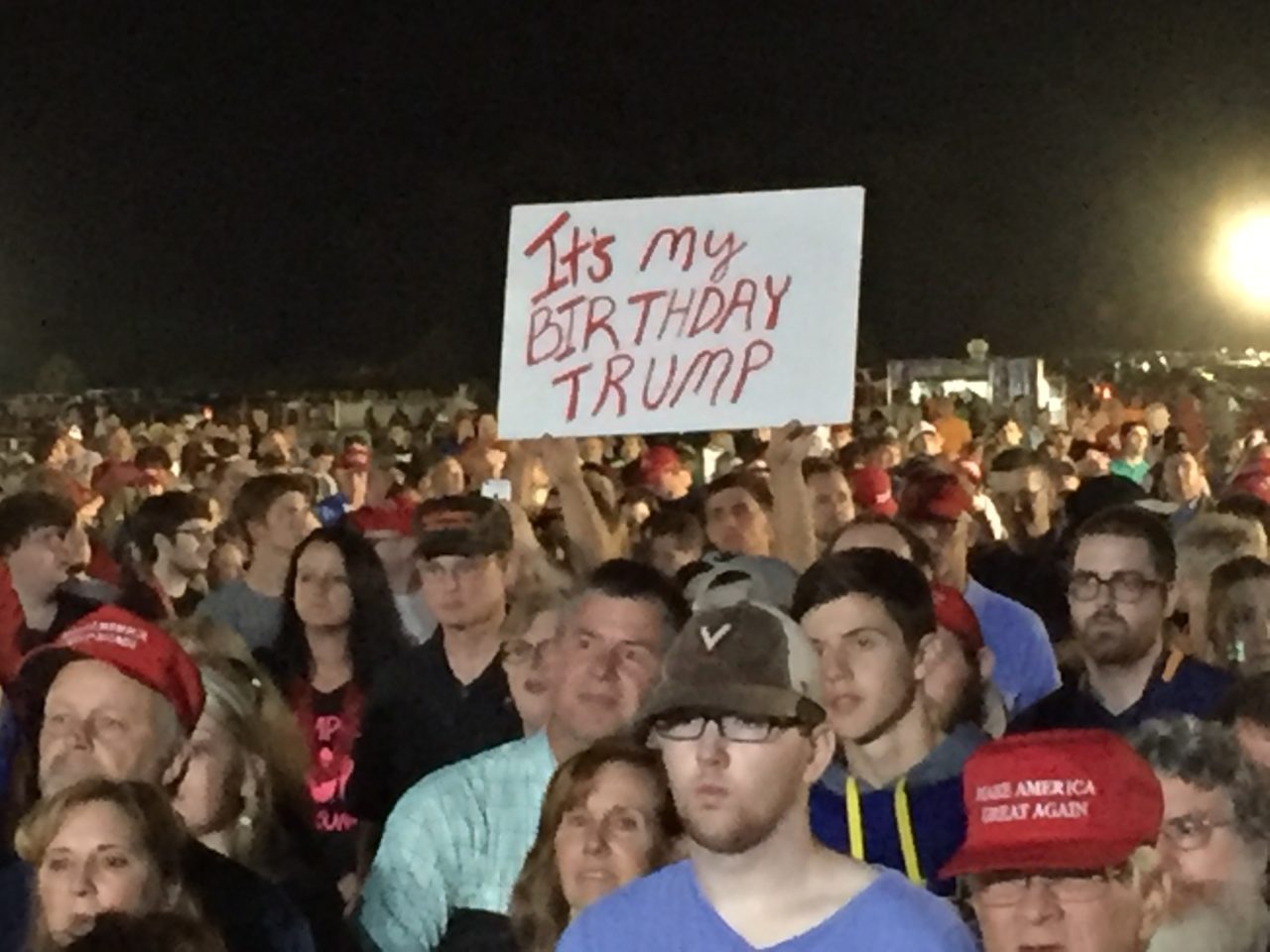 As he does at many rallies, Trump blasted the "dishonest" media, and challenged them to show the size of the crowd at the rally.
David Butler of Raleigh, North Carolina, told Breitbart News that he had driven to the rally because he was excited to be part of history. "I want to be part of the movement that changes America. By being here, I'm supporting the man who's going to be the next President of the United States."
North Carolina is on the front lines of the battle for votes. Hilary Clinton addressed a rally in Raleigh, and the two candidates' aircrafts were briefly at the Raleigh-Durham International Airport at the same time.
This post has been updated to reflect confirmed attendance figures.
Joel B. Pollak is Senior Editor-at-Large at Breitbart News. His new book, See No Evil: 19 Hard Truths the Left Can't Handle, is available from Regnery through Amazon. Follow him on Twitter at @joelpollak.
---
TWENTY-TWO MEDAL OF HONOR RECIPIENTS: VOTE FOR TRUMP - OUR ENEMIES WILL HATE US FOR IT
Our nation is blessed with the promise of freedom and the glory of liberty. And our enemies hate us for it. The street corners in any American city might be lined with churches and temples and mosques. And our enemies hate us for it. Men and women of any race, color or creed can enjoy the fruits of their labors under American laws. And our enemies hate us for it. The time is upon us to remind the enemies of freedom that the United States of America is the shining city on the hill and that we will never surrender it.

Defending our country and preserving the security of our homeland is the absolute highest constitutional duty of our Commander-in-Chief. Over the last eight years we have seen the rise of ISIS and Iran, North Korea getting closer to nuclear weapons, and dangerous cuts to our military. While an emboldened China modernizes its military, our military readiness has been degraded to historically low levels. The enemies of freedom have grown stronger while the American military posture around the world has weakened significantly. Four more years of the current military strategy represents a clear and present danger to our nation's future.

Mr. Trump is the only candidate with a plan to enhance America's military strength. He will immediately work with Congress to remove defense from sequestration. A Trump White House will restore our military readiness while modernizing our national defense capabilities. He will ensure that our allies receive the reassurance they need while contributing reasonably and fairly to their own defense. Perhaps most importantly, Donald Trump will develop and employ a plan to destroy ISIS and defeat radical Islamist terrorism.

We cannot continue, nor can our freedoms afford, the feckless foreign policies and defense strategies promised by the Democratic nominee. The philosophy of retreat, apology, and weakness has already jeopardized the safety and freedom of every American, stressed the readiness of our Armed Forces and allowed our nation's enemies to advance. This country simply cannot afford four more years of weak and indecisive leadership from the White House.

America faces what Henry Kissinger has called the most "diverse and complex array of crises since the end of the Second World War." Donald Trump is the only candidate that has recognized this and developed a plan to defeat our enemies, both foreign and domestic. As recipients of the Medal of Honor, we have been privileged to serve alongside some of this nation's true heroes. We firmly believe that Mr. Trump is the only candidate with the mettle to lead our nation through the many challenges facing us and our way of life. We have been eyewitness to courage and integrity during our lives and have special trust and confidence that Mr. Trump possesses the fortitude and judgment to Make America Great Again. 

On November 8th we will be voting for Donald Trump and we encourage you to do the same.

And our enemies will hate us for it.
---
The following twenty-two Medal of Honor recipients support Donald J. Trump for President of the United States:
World War II
Woody Williams
CWO-4, Marines
Ona, West Virginia
Korea
Ron Rosser
Sergeant First Class, Army
Roseville, Ohio

Bob Simanek
Private First Class, USMC
Farmington Hills, Michigan

Vietnam
Bennie Adkins
Command SGTMAJ, Army
Auburn, Alabama

Don "Doc" Ballard, Colonel, Army
Grain Valley, Missouri

Pat Brady
Major General, Army
New Braunfels, Texas

Bruce Crandall
Colonel, Army
Manchester, Washington

Sammy Davis
Sergeant First Class, Army
Freedom, Indiana

Harold "Hal" Fritz
Colonel, Army
Peoria, Illinois

Mike Fitzmaurice
Specialist, Army
Hartford, South Dakota

Wesley Lee Fox
Colonel, Marines
Blacksburg, Virginia

Robert Ingram
Petty Officer, Navy
Jacksonville, Florida

Jim Livingston
Major General, Marines
Mount Pleasant, South Carolina

Walter "Joe" Marm
Colonel, Army
Fremont, North Carolina

Robert Modrzejewski
Colonel, Marines
San Diego, California

Robert "Bob" Patterson
Command SGTMAJ, Army
Pace, Florida

Kenneth "Ken" Stumpf
Sergeant Major, Army
Tomah, Wisconsin

James "Jim" Taylor
Major, Army
Trinity Center, California

Michael "Mike" Thornton
Lieutenant, Navy
Dallas, Texas

Leo Thorsness
Colonel, Air Force
St. Augustine, Florida

Jay Vargas
Colonel, Marines
San Diego, California

Global War on Terror
Leroy Petry
Master Sergeant, Army
Steilacoom, Washington
---
A truly massive crowd in Selma, NC, for Donald Trump's rally tonight: pic.twitter.com/z1X2nswjvA

— Jenna Johnson (@wpjenna) November 4, 2016
---
GETTY IMAGES
---
TRUMP JOINS MILITARY LEADERS, MEDAL OF HONOR RECIPIENTS, TO OUTLINE PLAN TO REBUILD MILITARY
**Remarks As Prepared For Delivery**
I have so many great friends here tonight, and I want to begin by thanking General Kellogg, General Flynn, and also the great Congressman Mark Meadows.
In five days, we are going to win the great state of North Carolina and we are going to win back the White House. But you have to get out and vote, and you have to vote early.
It is an honor to be here in North Carolina, a state that has produced many of the finest and bravest soldiers, airmen, sailors and marines ever to wear a uniform.
I stand here tonight among heroes.
I am also honored to be among so many military families, wives, husbands, parents and children who shoulder the burdens of war.
Let me begin by making you this solemn promise: I will never, ever let you down.
I am very proud to have the support of so many military and law enforcement groups all across this great nation – including the support of more than 200 top Admirals and Generals, and 22 Medal of Honor Recipients.
We are joined tonight by a number of those admirals, and generals, and 7 Medal of Honor Recipients.
The Medal of Honor Recipients with us here tonight are: Colonel Leo Thorsness, Command Sergeant Major Bob Patterson, Navy Seal Mike Thornton, Command Sergeant Major Bennie Adkins, Colonel Joe Marm, and Master Sergeant Leroy Petry.
These men display to the whole world the unyielding strength, courage and grit of the United States of America. They went above and beyond the call of duty, thought nothing of their own safety in order to protect their fellow man, and acted with a bravery that will etch their legacy into the history of this nation.
Not far from here is Fort Bragg, the second largest military base in the world. It is home to the 82nd Airborne Division, the most decorated unit in the U.S. military, and of our Army Special Forces, who even today are serving in harm's way overseas.
Just in the last 24 hours, this country lost two soldiers in combat in Afghanistan, and it is a reminder of what our warriors and their families, like those at Fort Bragg and across North Carolina, sacrifice for our country. We owe them a debt we can never repay.
Our Special Forces here at Fort Bragg have been the tip of the spear in fighting terrorism. The motto of our Army Special Forces is 'to free the oppressed', and that is exactly what they have been doing.
The military families of North Carolina have shed their blood and poured out their hearts for this country. If given the honor of serving as your President, it will be my solemn duty to ensure the following:
--All men and women in uniform will have the supplies, support, equipment, medical care and resources they need to get the job done.
--Full and proper funding for all branches of the American Armed Services.
--A commitment from our allies to pay their fair share of the military burden.
--Support for military families, including jobs, education and housing.
--The best care in the world for our Veterans, both at public VA facilities, as well as the right to see the private doctor of your choice.
--And finally, a commitment to only engage the use of military forces when it is the vital national security interests of the United States.
We will stop trying to build foreign Democracies, topple regimes, and race recklessly to intervene. Instead, our focus must be on Keeping America Safe and on destroying ISIS and defeating Radical Islamic Terrorism.
Any nation that shares our goal of destroying ISIS and defeating terrorists will be our partner in this mission.
Under the failures of Hillary Clinton and Barack Obama, ISIS has become a clear and present danger to Europe and the United States. After all the sacrifice our soldiers made, Clinton and Obama pulled out the troops on a public timetable, giving rise to ISIS and handing Iraq over to ISIS killers.
Now, ISIS is on a campaign of genocide in the Middle East, torturing, drowning and burning people alive.
ISIS has slaughtered men, women and children in France, Germany, Belgium, and there are now 1,000 open ISIS investigations in the United States. We've seen the bloodshed in the attacks in Orlando, San Bernardino, and the recent bomb plot in New York and New Jersey.
Yet, as we send brave men and women overseas to fight terrorists in the Middle East, Hillary Clinton wants to fling our borders wide open, allowing those same terrorists to infiltrate our country at home. She wants a 550% increase in Syrian refugees, and virtually unlimited immigration from some of the most extreme and dangerous places in the world.
A Trump Administration will suspend the Syrian Refugee program and keep Radical Islamic Terrorists out of our country.
We know Hillary can't be trusted with America's security. She's under multiple criminal investigations at this very moment for criminal conduct that put the safety of our entire nation at risk.
CBS news has just minutes ago confirmed that the 650,000 emails discovered by the FBI include brand new emails not previously seen. Hillary therefore committed perjury in addition to all her other crimes, probably also in that batch are classified emails that would now have been hacked by foreign countries.
Service members here in North Carolina have risked their lives to acquire classified intelligence to protect America. Hillary thought nothing of putting classified information on her illegal server which our enemies could easily hack. We know now with almost 100% confidence that at least 5 foreign intelligence agencies breached the Clinton Server.
Then she tried to destroy the evidence by deleting 33,000 emails after receiving a congressional subpoena.
Hillary created the server to shield her criminal activity and her corrupt Pay-For-Play Scheme where she sold her office as Secretary of State to donors and special interests.
In other words, she was more interested in keeping her emails a secret than in keeping our classified intelligence a secret – she was more interested in protecting herself than protecting all of you.
Ending this criminal government corruption is one of the most important reasons we must win on November 8th.
We also know Hillary can't be trusted with our security because of her disastrous record on foreign policy. No Secretary of State in history has failed in more places, in more ways, than Hillary Clinton.
In 2009, pre-Hillary, Libya was stable, Syria was under control, Iraq was seeing a reduction in violence, and ISIS wasn't even on the map.
Fast forward to today. Libya is in ruins. Syria is in the middle of a catastrophic civil war. Iraq is in chaos. And ISIS is spreading across the region, into Europe, and into America – and they've launched a campaign of genocide against Christians.
Yet, after all of this, Hillary Clinton can't even say the words: Radical Islamic Terrorism.
Anyone who cannot name the enemy cannot lead this country.
Another reason we know Hillary can't be trusted with our security is Benghazi.
Let me make this very clear: A Trump Administration will honor that sacred pledge to leave no man or woman behind.
On top of everything else, we have the disaster and humiliation in Iran.
Our sailors were forced to their knees. We paid $1.7 billion in cash ransom, and now Iran is demanding billions more in new ransom payments. Hillary put them on a path to regional dominance and nuclear weapons, as well as another $150 billion in cash.
Because of our failed leaders, including from the campaigner- in-chief, America is not respected around the world anymore.
And, at home, our cities have seen an alarming rise in violence, communities trapped in poverty, and 40,000 homeless Veterans even as we spend trillions of dollars to support illegal immigrants.
Hillary will send American troops to defend the borders of foreign countries, but refuses to protect the borders of her own country.
America needs a turnaround. America needs new leadership.
That begins with restoring respect for America and restoring respect for the American Flag.
It also means rebuilding our depleted military.
A Trump Administration will immediately reverse the Obama-Clinton defense sequester.
The Army is the smallest it has been since before World War II. The Navy is the smallest since World War I. The Air Force is the smallest and oldest it has ever been.
My plan will grow the Army to 540,000 active troops, which the Army Chief of Staff says he needs. That means more Brigade Combat Teams at Fort Bragg. We will build the 1,200 modern fighters our Air Force needs, and that means more planes flying out of locations like Seymour Johnson Air Force Base and Marine Core Air Station Cherry Point.
Our Marine Core will grow from 27 to 36 battalions, and that's going to mean a lot more Marines at Camp Lejeune.
And new military technologies will be produced at the Research Triangle right here in North Carolina.
In summary, my policy can be based on three very important words: Peace Through Strength.
Strength also means we need to save America's economy.
That begins with immediately repealing and replacing Obamacare.
It's just been announced that the residents of North Carolina are going to experience a massive double-digit premium hike.
95 of 100 North Carolina counties will only have one insurer in the Obamacare exchange next year.
Yet Hillary Clinton wants to double-down on Obamacare, making it even more expensive.
I am asking for your vote so we can repeal Obamacare and save healthcare for every family in North Carolina.
At the core of my contract with the American voter, is my plan to bring back our jobs.
North Carolina has lost nearly half of its manufacturing jobs since NAFTA – a deal signed by Bill Clinton and supported by Hillary Clinton.
America has lost 70,000 factories since China entered the World Trade Organization – another Bill and Hillary-backed deal.
We are living through the greatest jobs theft in the history of the world.
A Trump Administration will stop the jobs from leaving America, and we will stop the jobs from leaving North Carolina.
The theft of American prosperity will end.
If a company wants to fire their workers, move to another country, and then try to ship their products back into the United States, we will apply a 35% tax on those goods.
A Trump Administration will renegotiate NAFTA – and if we don't get the deal we want, we will terminate NAFTA and get a much better deal for our workers.
We will also immediately stop the job-killing Trans-Pacific Partnership.
As part of our plan to bring back jobs, we are going to lower taxes on American business from 35 percent to 15 percent.
We will become a rich nation once again.
But to be a rich country, we must also be a safe country.
Hillary supports totally "open borders," and strongly supports Sanctuary Cities, like San Francisco, where Kate Steinle was murdered by an illegal immigrant who had been deported 5 times.
A Trump Administration will cancel all federal funding to Sanctuary Cities.
We will deport all criminal aliens, stop the drugs from pouring into our communities, and we will protect American workers.
And that's just the beginning.
Just think about what we can accomplish in the first 100 days –
We are going to have the biggest tax cut since Ronald Reagan; eliminate every unnecessary job-killing regulation; cancel every illegal Obama executive order; rebuild our military and take care of our Vets; provide school choice and put an end to common core; support the men and women of law enforcement; save the 2nd amendment; and appoint Justices to the Supreme Court who will uphold and defend the Constitution of the United States.
It is time to cut our ties with the failed and bitter politics of the past.
Hillary Clinton is the candidate of yesterday. We are the movement of the future.
We are asking for the votes of Republicans, Democrats, Independents, and first-time voters.
We are fighting for every citizen who believes that government should serve the people – not the donors and special interests.
We are fighting to unlock the potential of every American community, and every American family, who hope and pray and yearn for a better future.
With your vote, we are just 5 days away from the change you've been waiting for your entire life.
Together, We Will Make America Wealthy Again.
We Will Make America Strong Again.
We Will Make America Safe Again.
And We Will Make America Great Again.
---